After studying at the Ecole Nationale Supérieure des Beaux-arts in Lyon, France in textile design (BA), Olivia Babel make a formation in Fiber Art at Ecole Supérieure des Beaux arts in Angers, France. Specialized in fiber art, tapestry and embroidery, Olivia Babel is interested in the concept of territory.
It is used to represent plant territories in all their forms (fertile, arid, stripped by the time …) so that one wonders about the situation of our environment. She represents imaginary territories in order to question our relationship to cartography.
In 2018, she exhibited her artworks at the International Contemporary Textile art Biennial, Contextile in Guimaraes, Portugal and at the Textile Biennial in Roubaix, France.
---
 Après des études en design textile à l'École nationale supérieure des beaux-arts de Lyon, en France, Olivia Babel suit une formation en art sur fibres à l'École supérieure des beaux-arts d'Angers. Spécialisée dans l'art des fibres, la tapisserie et la broderie, Olivia Babel s'intéresse au concept de territoire. Il est utilisé pour représenter les territoires végétaux sous toutes leurs formes (fertiles, arides, dépouillés par le temps …) afin que l'on s'interroge sur la situation de notre environnement. Elle
représente des territoires imaginaires pour interroger notre rapport à la cartographie.
En 2018, elle expose ses œuvres à la Biennale internationale d'art textile contemporain, Contextile à Guimaraes, au Portugal et à la Biennale du textile à Roubaix, en France.


 Madagascar, 85 cm x 150 cm / 33 in x 59 in


United Arabe Emirates, 140 cm x 100 cm / 55 in x 39 in
France, 240cm x 250cm / 94,5 in x 98,4 in
Senegal, 150 cm x 140 cm / 59 in x 55 in
Italia, 80 cm x 120 cm / 31,50 in x 47,2 in
Unreal territory, 100 cm x 110 cm / 39,3 in x 43,3 in

Belgium, 70 cm x 65 cm / 27,5 in x 25,6 in
Unreal territory, 40 cm x 30 cm / 16 in x 11,8 in
Unreal territory, 45 cm x 42 cm / 17,7 in x 16,5 in
Unreal territory, 25 cm x 18 cm / 9,8 in x 7 in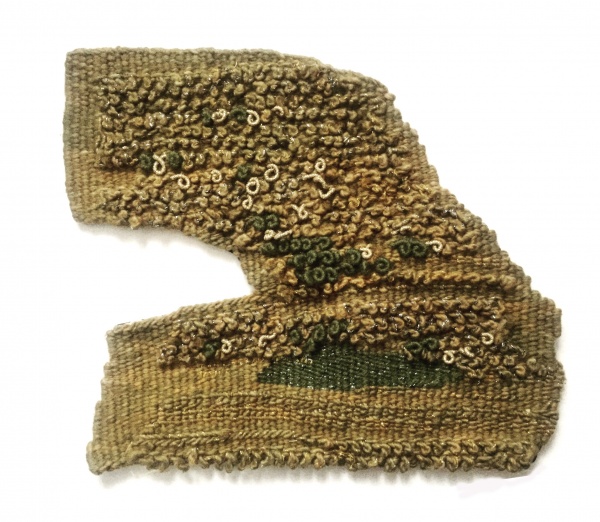 Unreal territory, 32 cm x 30 cm / 12,5 in x 11,8 in

Unreal territory, 76 cm x 70 cm / 30 in x 27 in

  Tapestry in progress
 
   ©Olivia Babel – Tous droits réservés – All rights reserved